THE

OFFICIAL JEFF WILLIAMS WEBSITE
Legendary Jazz Drummer
Born in Mount Vernon, Ohio, Jeff began his professional jazz drumming career in New York in 1971. By '72 he was playing with Stan Getz, followed by
Dave Liebman and Lookout Farm through 1976. His other associations include Joe Lovano, Lee Konitz, Paul Bley, Bill McHenry, Ethan Iverson,
Tony Malaby, Leo Genovese and a host of others. Since making a second home in London some years ago Jeff has performed with Kenny Wheeler,
Norma Winstone, Martin Speake, Nikki Illes, Olie Brice and more, in addition to leading his own bands, whose members have included Phil Robson,
Kit Downes, Finn Peters, Josh Arcoleo, Sam Lasserson, John O'Gallagher, Duane Eubanks and John Hébert.
Jeff has recorded five albums for the Whirlwind Recordings label showcasing his original compositions.
The latest,

Bloom

,
features Carmen Staaf-piano and Michael Formanek-bass
and is available in both CD and 180 gram LP formats.
Having benefitted from much experience, and extensive study with the great Alan Dawson,
Jeff has given jazz drumming instruction at a number of universities and currently teaches at the Royal Academy of Music in London.
---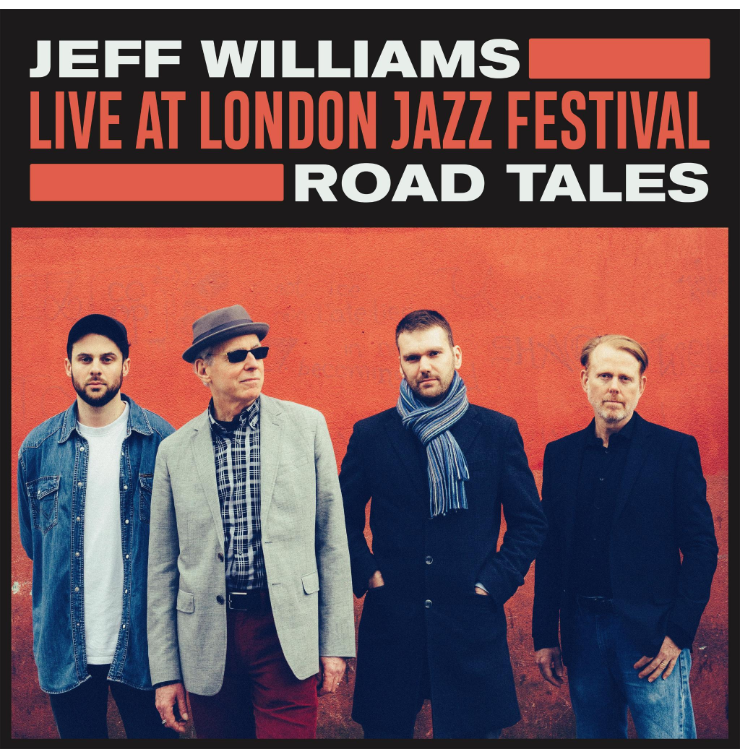 To be released on Nov. 20, 2020
Whirlwind Recordings WR4768
Click on photo for preordering
Upcoming performances -
Dates below have been cancelled because of pandemic concerns:

19th of Nov. w/ Xhosa Cole, Byron Wallen, Noah Stoneman, London Jazz Festival at Pizza Express Jazz Club, London
30th of Nov. Launch of Live At London Jazz Festival - Road Tales with John O'Gallagher, Josh Arcoleo, Sam Lasserson at Pizza Express Jazz Club, London


Please help support London's Vortex Jazz Club:
https://www.crowdfunder.co.uk/save-the-vortex

Jeff Williams Lifelike band with Gonçalo Marques, JohnO'Gallagher,Josh Arcoleo, Kit Downes and SamLasserson. Recorded at the club in 2018:
https://www.youtube.com/watch?v=WOk59L8FCZ0

The Jeff Williams'

Bloom

May 2020 tour is postponed indefinitely
Selected Discography
24 Hours Ant Trip Ceremony 1967 (CD release by Cicadelic 1999)
Friends Marc Cohen, John Abercrombie, Clint Houston, Jeff Williams 1972 (Oblivion)
Lookout Farm Dave Liebman 1973 (ECM)
Eon Richard Beirach 1974 (ECM)
Drum Ode Dave Liebman 1974(ECM)
Father Time Frank Tusa 1975 (Enja)
Methuselah Richard Beirach 1975 (Trio)
Ashirbad Badal Roy 1975 (Trio)
Sweet Hands David Liebman 1975 (A&M/Horizon)
Passing Dreams Badal Roy 1975 (CD release by Geetika 2002)
The Last Call David Liebman 1976 (Ego)
David Liebman and Richie Beirach 1976 (CD release by Mosaic 2004)
Love Exorcism, Peace Dizzy Reese 1977 (Honey Dew)
Free Fall Richard Sussman 1978 (CD release by Double Time 2001)
Arnie Lawrence and Treasure Island 1979 (Doctor Jazz)
Cosmopolitan Jason Miles 1979 (CD release by Jason Miles Music 2005)
Con Brio Jerry Bergonzi 1983 (Plug)
The Ray Jerry Bergonzi and Con Brio 1984 (Not Fat)
Lonely Woman Frank Kimbrough 1988 (Mapleshade)
Paul Bley plays Carla Bley Paul Bley 1991 (SteepleChase)
Coalescence Jeff Williams 1991 (SteepleChase)
Ugly Beauty Kevin Hays 1991 (SteepleChase)
Blue in Green Mike Richmond 1991 (SteepleChase)
Quartet Language Armen Donelian 1992 (CD release by Playscape 2003)
Lunasea Lee Konitz/Peggy Stern 1992 (Soul Note)
Rhapsody 1 and 2 Lee Konitz 1993 (Paddlewheel)
Mercy Angel Lindsey Horner 1994 (Upshot)
Believers Lindsey Horner 1995 (Koch)
Jazzblues Jeff Williams 1995 (CD release by Willful Music 1997, Cathexis 1999)
Pink Cloud Ron McClure 1996 (Naxos)
Amongst Ourselves Dave Ballou 1997 (SteepleChase)
Live at the Blue Note Roberta Piket 1998 (Half Note)
Volition Dave Ballou 1998 (SteepleChase)
Dig It Lee Konitz/Ted Brown 1999 (SteepleChase)
Live At Smalls Ethan Iverson/Bill McHenry 2000 (Fresh Sound/New Talent)
United Ari Ambrose 2000 (SteepleChase)
City of Dreams Garrison Fewell 2001 (Splasc(h))
Axiom John O'Gallagher 2002 (CIMP)
Song For Amy Dave Scott 2003 (SteepleChase)
Line of Sight John O'Gallagher 2004 (Fresh Sound/New Talent)
Phrase Six Russ Lossing 2004 (Fresh Sound/New Talent)
Sonic Pressure Bill McHenry 2005 (Fresh Sound/New Talent)
Naivete Dave Scott 2006 (SteepleChase)
The Music of Chance Barry Green 2006 (Moletone)
Generations Martin Speake 2007 (Pumpkin)
Dirty Hands John O'Gallagher 2007 (Clean Feed)
Nonchalant Dave Scott 2007 (SteepleChase)
Everything Forgets Ryan Blotnick 2008 (Songlines)
Live At Sweet Rhythm Richard Sussman Quintet 2003, released 2010 (Origin)
Cry, Want Hans Koller with Bill Frisell 2009, released 2010 (psi)
Live At Riverhouse Martin Speake 2009, released 2011 (Pumpkin)
Another Time Jeff Williams 2010, released 2011 (Whirlwind Recordings LTD)
Hush Nikki Iles, Rufus Reid 2010, released 2011 (Basho Records)
Chasing The Unicorn Hans Koller Francois Théberge, Percy Pursglove 2008, released 2011 (Babel Label)
Continuum Richard Sussman Quintet with Randy Breaker, Jerry Bergonzi, Mike Stern, 2012 (Origin)
Always A First Time, Martin Speake, Mike Outram, 2013 (Pumpkin)
The Listener, Jeff Williams, 2012 (Whirlwind Recordings Ltd)

Mike Gibbs + Twelve Play Gil Evans, 2012 (Whirlwind Recordings Ltd)
Concert In The Amazon Jeff Williams 2013 (Willful Archives limited edition 001)
First Meeting - Live in London Volume 1, Lee Konitz, Dan Tepfer, Michael Janisch, Jeff Williams, (Whirlwind Recordings Ltd) 2010/2014
Immune To Clockwork Olie Brice Quintet 2014 (Multikulti MP1026)
Vuelta Mike Fletcher Trio 2014 (Stoney Lane Records SLR1931)
Valence John O'Gallagher, Sam Lasserson, Jeff Williams 2014 (Willful Archives limited edition 002)
Anatta Alex Merritt Quartet, 2015, released 2016 (F-IRE Records)
Outlier, Jeff Williams, 2015, released 2016 (Whirlwind Recordings Ltd)
Retrospection, Hans Koller, released 2016, (Stoney Lane Records--3 LP set)
Off The Ground, Demian Cabaud, (self-released 2016)
Heart and Soul, Hans Koller, released 2017 (Fresh Sound/New Talent 513)
Astah, Demian Cabaud, released 2018 (Porta Jazz)
Lifelike Jeff Williams 2018 (Whirlwind Recordings WR4721)
Bloom Jeff Williams 2019 (Whirlwind Recordings WR4737)

Linhas, Gonçalo Marques 2019 (Porta Jazz)
Lookout Farm at Onkel Po's Carnegie Hall 1975 (released 2019) Jazzline D77071
Woodland, Carmen Staaf (Newvelle Records NV028) 2020